Customer Reviews
Demi P.

Australia
01 Mar 2021
Beyond amazing!
For starters, the quality, the colour, the fit - just wow! Instantly when my set arrived I was amazed with it all. Packaged so perfectly, fabric just beautiful, the cut of the bra itself -perfect. The sizing was exactly accurate! And of course the colour was so much better than any other neutral shade I'd ever worn. Love love love! Hoping this can come in black and I'll never need to buy from another brand again! Thank you!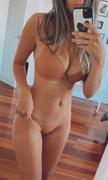 Julie M.

Australia
17 Dec 2020
Beautiful bra
The skin colour match is perfect and the bra shape is fantastic for deep V necklines. Super comfortable.
Michelle M.

Australia
09 Nov 2020
Best bra ever!!
Perfect colour and fit!! Have never found a better every day bra
Tamica L.

Australia
09 Nov 2020
Love it!
Love the colour and the fit
Kathrin M.

Australia
01 Nov 2020
Bra
I love the colour, fabric, fit. My only issue is that the straps are too long for me and even if I tie them to the smallest possible, it doesn't go short enough. It's a shame because I love it in every other way.